Posts for tag: snoring
By Clemson SC Dental Associates
March 14, 2021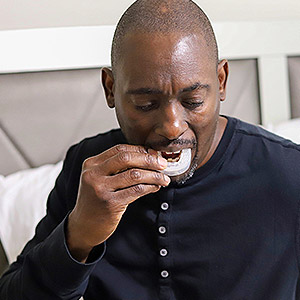 If you live an average lifespan, you'll spend more than 200,000 hours in blissful slumber. It's not a waste, though: You absolutely need this much sleep to maintain optimum physical and mental health. That's why the National Sleep Foundation recognizes each March as Sleep Awareness Month to highlight the obstacles to a good night's sleep. One such obstacle is obstructive sleep apnea (OSA)—and if you have it, we may be able to help you reduce the harm it may be causing you.
OSA is the blockage of the airway during sleep, usually when the tongue relaxes against the back of the throat. As the oxygen level falls, the brain arouses the sleeper to restore airflow. This only takes a few seconds before the person slips back into sleep, but it can occur several times an hour.
As this scenario repeats itself night after night, the person becomes deprived of the deeper stages of sleep they need to stay healthy. The long-term effect can even be life-threatening: Besides chronic fatigue and "brain fog," there's also an increased risk of high blood pressure, disease or other serious health conditions.
But there are ways to reduce chronic OSA, the most common being a therapy known as continuous positive airway pressure (CPAP). A CPAP machine, prescribed by a medical doctor, consists of a small pump that streams pressurized air into the mouth through a hose and facemask; the increased air pressure in the mouth helps keep the airway open. It's a proven method, but not always a favorite with some patients who find it uncomfortable and restrictive to wear every night.
If you're in that camp regarding CPAP therapy, an alternative may be possible: oral appliance therapy (OAT), which dentists can provide. Worn in the mouth during sleep, this custom-fitted mouthguard-like appliance repositions the tongue so that it doesn't block the airway. There is a variety of mechanisms, but most involve a hinge that positions the lower jaw forward, which in turn pulls the tongue away from the back of the throat.
These less invasive OAT devices may be an alternative to CPAP therapy for people who have mild to moderate OSA and find CPAP machines difficult to use. If you've been diagnosed with OSA and CPAP therapy hasn't been a good fit for you, speak with us about an OAT device. It could help you overcome this common disorder and get the deep sleep you need for a healthy mind and body.
If you would like more information about a dental approach to obstructive sleep apnea, please contact us or schedule a consultation. To learn more, read the Dear Doctor magazine article "Sleep Disorders & Dentistry."
By Clemson SC Dental Associates
September 05, 2019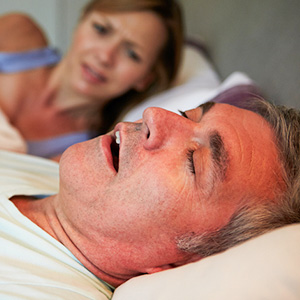 When you awake in the morning do you still feel exhausted? Are you irritable during the day, unable to think or focus clearly? Is your loud snoring bothering your bed partner?
If you answered affirmatively to any of these questions, you may have sleep apnea. This happens when an obstruction (usually the tongue) blocks the airway during sleep, preventing you from breathing. Your brain notices the drop in oxygen and wakes you to re-open the airway. The arousal lasts only a few seconds, and you may not even notice. But because it can happen many times a night, these waking episodes can rob you of the deep sleep your body needs.
Sleep apnea is more serious than simply waking up grumpy. Over time, it could contribute to dangerous health conditions like high blood pressure or heart disease. If you're noticing any of these signs, it's important then that you undergo a complete examination by a physician or dentist trained in sleep-related issues.
Fortunately, there are ways to reduce sleep apnea. One of the most common is continuous airway pressure (CPAP): This method uses a small pump that pushes pressurized air through a face mask worn while the patient sleeps. The forced air keeps the airway open and reduces apnea episodes.
While it's an effective method, it can be uncomfortable and cumbersome to use—some people can't tolerate wearing the mask while they sleep. But if your sleep apnea symptoms are mild to moderate, your dentist may be able to provide an alternative therapy with a specially designed oral appliance.
Similar to a mouthguard or retainer, a sleep apnea appliance worn during sleep holds the lower jaw forward, which helps move the tongue away from the airway. It's much less cumbersome (and noisy) than a CPAP machine. And your dentist can custom design and fabricate your appliance for a comfortable fit.
Not all cases of sleep apnea can benefit from such an appliance, or even from CPAP therapy. Extreme cases could require surgery to remove tissues blocking the airway. But most sleep apnea patients don't require this invasive intervention. Getting checked by a qualified medical professional could open the door to a more convenient and effective way to a better night's sleep.
If you would like more information on dental solutions for sleep apnea, please contact us or schedule an appointment for a consultation.
By Clemson SC Dental Associates
August 01, 2018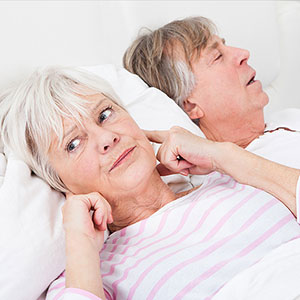 Sleep apnea is more than an annoyance. This chronic condition not only interferes with your alertness during the day, it may also contribute long-term to serious issues like cardiovascular disease.
Sleep apnea occurs when your airway becomes temporarily blocked during sleep. Of the possible causes, one of the most common is the tongue, which as it relaxes may cover and block the back of the throat. This lowers the body's oxygen level, which in turn alerts the brain to wake you to clear the airway. You usually go immediately back to sleep, unaware you've wakened. This can happen several times a night.
Although older people are at higher risk, anyone can have sleep apnea, even children with enlarged tonsils or adenoids. If you or a loved one regularly experiences fatigue, brain fog, irritability or loud snoring, sleep apnea could be the culprit. You'll need a complete medical examination to properly diagnose it.
If you do indeed have sleep apnea, there are a number of ways to treat it depending on its severity. One prominent way is with a Continuous Positive Airway Pressure (CPAP) machine that produces a higher air pressure in the mouth to force the tongue forward and keep the airway open.
While CPAP is effective, the pump, hose and face mask you must wear may become uncomfortable while you sleep. We may, however, be able to supply you with a less cumbersome device: a custom-made oral appliance you wear while you sleep. Similar to a retainer, this appliance mechanically pulls and holds the lower jaw forward, which in turn moves the tongue away from the airway opening.
This oral appliance won't work with all forms of sleep apnea, so you'll need an examination to see if you're a candidate. With more advanced conditions, you may even need surgery to reshape the airway or remove soft tissue obstructions around the opening.
Whichever treatment is best for your situation, it's well worth reducing your sleep apnea. Not enduring these nightly incidences of airway blockage will help ensure you're getting a good night's sleep — and enjoying a higher quality of health and life.
If you would like more information on treating sleep apnea, please contact us or schedule an appointment for a consultation. You can also learn more about this topic by reading the Dear Doctor magazine article "If You Snore, You Must Read More!"