Posts for: April, 2021
By Clemson SC Dental Associates
April 13, 2021

Instagram, America's humongous digital photo and video album, is chock-full of the silly, mundane, and poignant moments of people's everyday lives. That includes celebrities: Tom Hanks buying a used car; Ryan Reynolds sporting tiny sunglasses; Taylor Swift and Ed Sheeran taking a hike. And then there's former Olympic alpine skier, Lindsey Vonn—posting a video of her recent dental visit.
Winner of several World Cup competitions and the first woman to gain the gold for downhill racing at the 2010 Winter Olympics, Vonn broke her two front teeth during a—you guessed it—skiing competition a few years ago. This past September, she went to the dentist to update her restoration and gave her followers a fascinating firsthand look at dental bonding, a technique for repairing a chipped or broken tooth.
Although dental bonding has been around for decades, it's taken a leap forward in the last few years because of improvements in bonding material. A mixture of plastic and glass components, composite resins can produce a strong and durable result when bonded to teeth. To begin the technique, the tooth's surface is prepared so that the composite resin can better adhere. Along with an adhesive agent, the bonding material is applied as a paste, which makes it easier to shape and sculpt for the most realistic look. This is usually done layer by layer, with each individual layer hardened with a curing light.
The technique allows us not only to achieve the right tooth shape, but also to incorporate your natural tooth color. We can tint the composite resin as we work so that your restored tooth blends seamlessly with the rest of your natural teeth. The result: A "new" tooth that's both beautiful and natural-looking.
What's more, dental bonding is more affordable than veneers or crowns and can often be done in a single visit. You will, however, need to exercise care with your new restoration. Although highly durable, it can be damaged if you bite into something hard. You'll also need to watch foods and beverages like tea or coffee that can stain the dental material.
Even so, we can help you regain the smile you once had before you took your teeth skiing—Lindsey Vonn-style—or whatever you were doing that resulted in a "whoopsie." All it takes is a call for an appointment to start you on the path to a more attractive smile.
If you would like more information about cosmetic dental enhancements, please contact us or schedule a consultation. To learn more, read the Dear Doctor magazine articles "Repairing Chipped Teeth" and "Artistic Repair of Front Teeth With Composite Resin."
By Clemson SC Dental Associates
April 03, 2021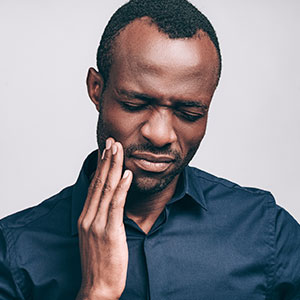 A scoop of ice cream is one of life's little pleasures. But for one in three Americans, it could be something altogether different—an excruciating pain when cold ice cream meets teeth. This short but painful experience that can happen when dental nerves encounter hot or cold temperatures is called tooth sensitivity.
A look at tooth anatomy will help explain why. Teeth are mainly composed of outer enamel, a layer of nerves and blood vessels within the tooth called the pulp, and dentin, a porous layer in between. The pulp nerves pick up temperature and pressure sensations from outside the teeth through a network of tiny passageways (tubules) in the dentin. Enamel muffles these sensations before traveling the tubules, which prevents overstimulation of the nerves.
This careful balance can be disrupted, however, if the enamel becomes eroded by acid from foods or beverages, or as a byproduct of bacteria. This exposes the underlying dentin to the full brunt of outward sensations, which can then impact the nerves and cause them to overreact.
This hyper-sensitivity can also occur around the tooth roots, but for a different reason. Because the gums primarily protect this area rather than enamel, the roots can become hyper-sensitive if they lose gum coverage, a condition known as gum recession caused mainly by gum disease or over-aggressive hygiene.
Besides using dental products that block nerve sensation, reducing sensitivity largely depends on addressing the underlying cause. If gum disease, the focus is on removing plaque, a bacterial film on dental surfaces that causes and sustains the disease. Stopping an infection allows the gums to heal and hopefully regain their original teeth coverage. More advanced cases, though, may require grafting surgery to foster gum regeneration.
If the cause is enamel erosion or other results of decay or trauma, we can utilize a number of treatments depending on the extent of tooth damage including cavity filling, root canal therapy or crowning. As a last resort, we may need to remove a tooth that's beyond reasonable repair.
If you've begun to experience sensitive teeth, it's important that you see us as soon as possible. The earlier we can diagnose the cause, the less invasive we can be with treatments to ease or even stop this most unpleasant experience.
If you would like more information on tooth sensitivity, please contact us or schedule an appointment for a consultation. You can also learn more about this topic by reading the Dear Doctor magazine article "Treatment of Tooth Sensitivity."